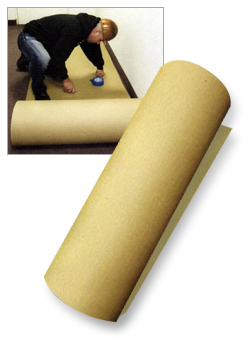 Temporary floor protection.
Cost effective and safe for all surfaces, perfect for protecting concrete and epoxy floors, green (made from 100% recycled products and can be recycled).
Construction Board does not stain and can be reused, is durable enough for any job site, durable enough to drive a forklift over it and has earned USBGBC Certified Leed's Points: material and resource credit 2.1 or 2.2
Rolls measure 38" x 100' (96.5cm x 30.5cm)
316 Square Feet (29.4 SqM)
Updating...